This Showcase was all about pedal boards and plenty of sick guitar solos! The winner of the biggest pedal board goes to Mysterious Voices. I wasn't the only person taking photos of their pedal boards too!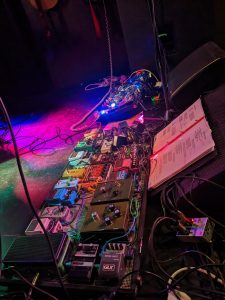 Mysterious Voices opened up the night with a great set. They have a very interesting sound, the bassist often switching to guitar and great keyboard/ female vocals. They were at their core rock with metal leanings, but by the end of the set they unleashed their prog numbers which went down well with the audience
Next up was True Zero, who was, until tonight, known as Mute the Silence. We have known them for a while but this was their first gig  which brought a load of people with them. Again lots of great guitar playing and good stage presence, You would never have guessed it was their first gig.
The headliner; Tyburn  sound was very classic rock but with a punk twist, which was mainly apparent in the vocals and lyrics. Again though, great guitar solo, song after song!
They performed two new songs in their 45 minutes repertoire, one of which I captured in video below.