£12.50 per hour off peak // 3 hours for £35 (off peak)
£15.00 per hour on peak // 3 hours for £45 (on peak)
Further discounts available on block bookings
and bookings of 4 or more hours.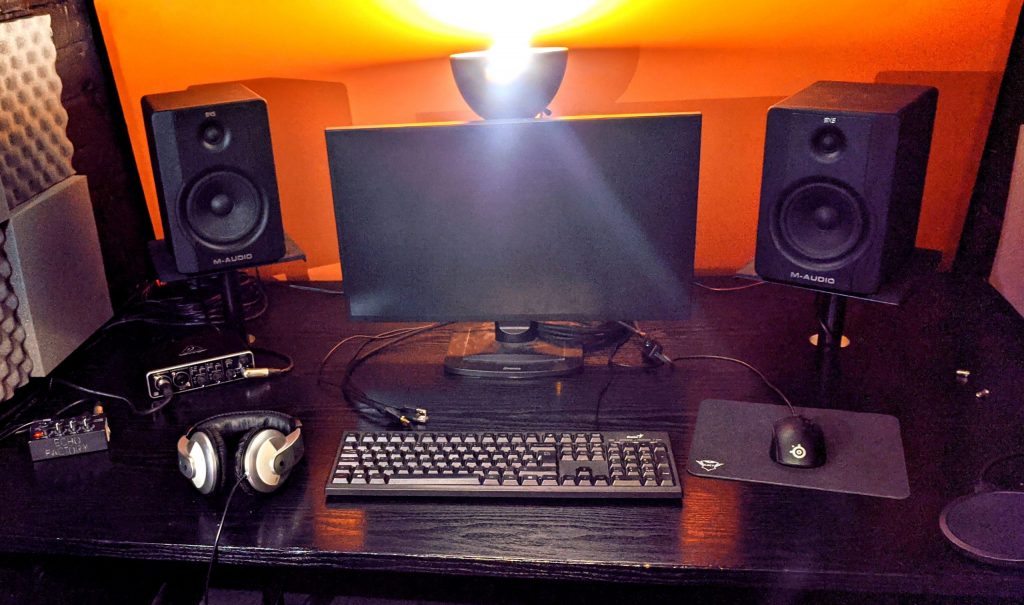 The 'Yellow Room' is Stayfree's very own hourly production room! Where you can bring your own laptop/device and plug into our mini recording studio to work on beats, podcasts, small recording sessions and much more! The yellow room was designed with our resident partners here at Stayfree to offer a space for our customers to use independently without the need of an engineer. So if you've always needed a space to work from but don't quite have the ability to make noise or the spare space, then the yellow room is here for you, with prices starting at just £12.50 per hour. And don't worry, if you do need help or an engineer for your session, we have them on hand to help too, just let us know when you make your booking.
The room will be ready equipped with the following.
Desk area with speaker stands and M-Audio BX5 Studio reference monitors
Addressable LED Light Strip W/remote (Mood lighting for all your social media posts)
Door Treatment/Seal with places to hang your jacket
5 x Custom acoustic band pass panels
Rode NT1A Vocal Mic (Set w/ cradle, pop filter, and cable)
Behringer H400 Headphone Amp w/ 2 HPA100 headphones wired up ready to go!
1080p HD screen with VGA cable and HDMI so you can connect to our display!
USB Charging ports for all your devices!
Funky desk lamp if the ceiling lights are too bright.
Mouse and Keyboard all pre-wired to make using everything a breeze!
A comfortable sofa for you to kick back and listen to your tracks.
For booking information please contact us on
0116 2230303 or admin@stayfree.co.uk
All of the equipment is 'class compliant' and driver ready, meaning the interface will work directly with no drivers needed, but on the off chance you need to install anything we have a USB attached to the screen with all the drivers you may need, for both PC and MAC.
We can't wait for you to come and try out our new space, it's the perfect size for 3-4 people and is ideal for recording vocals, guitars, brass, woodwind, and much more! 
Also more niche jobs such as:
podcasting
video recording
overdubs
private tuition
We work with and highly recommend the following studios. If you would like to book a session, please contact the studio directly

Specialising in urban music and electronic styles, B.A.V.S is a fully equipped multitrack studio, with isolated sound rooms and booth. You'll be able to produce your own music with the options of recording live instrumentation with our in house engineer and team of talented industry recognised musicians. A carefully curated and hand built studio houses a beautifully creative atmosphere, perfect for professional musicians or budding enthusiasts looking to create their first record!
beatsandvocalstudios@gmail.com