Thirty years is a long time for anyone to stay in business – especially a local independent music organisation- so it was important for Stayfree to have a big event as a centrepiece to the year's celebrations. In that time, Stayfree has promoted events, managed and supported bands and, most importantly, converted huge old buildings into rehearsal and recording studios in Leicester City Centre. From Lillie House next to the railway station to our newer canal-side premises on Frog Island, there was a lot to celebrate, reminisce about and show off to visitors on Sunday 22nd May
Outside
We've always thought that the yard is a great spot for a bit of music, eating and drinking, so we pulled in the famous Bitsy from her nearby emporium to sell cakes and other goodies; we stocked up the bar and soft drinks and organised an open mic session.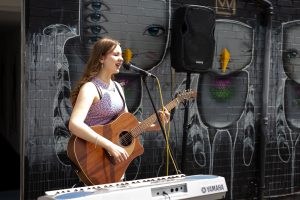 The atmosphere was great and we had children and adults of all ages playing and singing throughout the day, hosted by Lara, who also performed beautifully whenever there was a gap.
Tutors
We set up some of our rehearsal rooms so that they could host lessons for several adults or young people at a time. There were five drum kits in the blue room and most of the guitar amps were arranged in the Orange Room. Just seeing them was amazing, but the people having the free sample lessons also had a blast!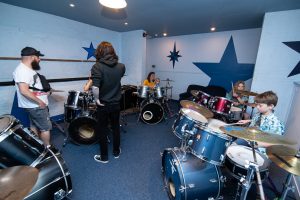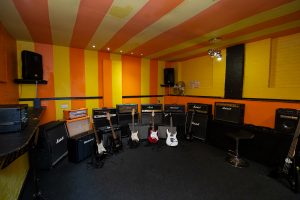 Workshops
One of the best ways to get involved in music is to start playing in a group with support and coaching so we were delighted to offer free workshops for children, women and then playing Dhol drums in the White Room. The feedback from participants was great and we look forward to offering more of this kind of workshop in the future.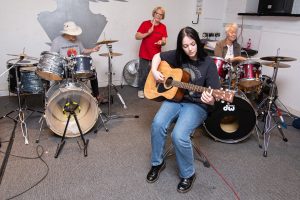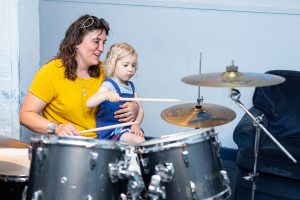 Showcase Gigs
The stage layout of our Black Room was used to good effect during the open day, to provide visitors with the full gig experience! Bands that played included Leave Your Body Behind, Dum Language and Drum Kings.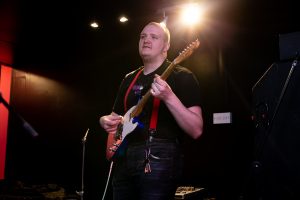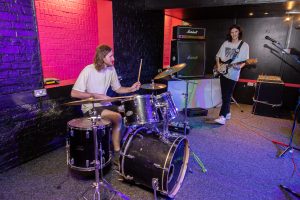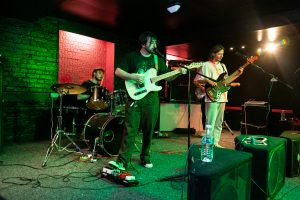 Archives
The Target Room was made into an area to relax and chat. Most of the walls were covered with colourful posters of band gigs – some from our bands playing the popular local venues, but also from the four years when Stayfree ran as the venue Lock 42. For anyone who has ever rehearsed at Stayfree, there was also the chance to look at the band booking sheets going back to 1994!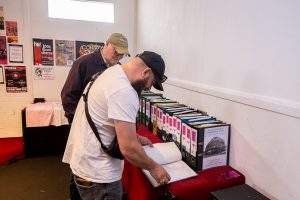 Feedback
"I never knew there were so many rehearsal rooms. I'll definitely be back."
"We loved it"
"Never thought I would ever get the chance to play a drum kit!"
"I've always walked past and wondered what was inside this building"
"It was a chilled afternoon and we saw lots of different styles of music."
"Thanks for the free instrument lessons. It was awesome!"