Yesterday's launch event for our next-door neighbour – Warehouse 6 – was a lovely day with pop-up stalls and good food along with some of the things that Stayfree does best … live music and beer!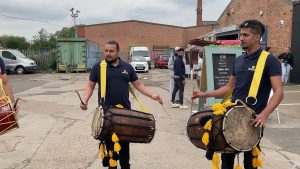 Warehouse Six aims to provide pop up spaces for new businesses to showcase their goods – from food to clothing, art to beauty. Zero waste company Nada are a permanent fixture, whilst others can book a day, week or longer to have a stall. The emphasis is on that fresh, clean look that you see all over Instagram these days.
The launch event was a great example of businesses working together. Ten years ago, Lock 42 was the name of the bar and venue that Stayfree ran, promoting a huge range of local and national touring bands. Now our drinks license allows us to sell alcoholic drinks to bands that rehearse here … and it's usually been Red Stripe and Pils. The launch event encouraged us to widen the range of bottles and cans, so we bought in a whole range of real ales – Spitfire and Trooper, as well as ready mixed cocktails, wine and non-alcoholic drinks.  After our open day earlier in the year, we've been collecting outdoor tables and chairs to create a nice setting outside for events, and Warehouse Six asked Stayfree to put on some live music in the gazebo.
First on was Ruth Po! playing songs from long ago without her backing band. Several fans had turned up to watch and the queues at the food stalls began to build up as our music began. Next was Worm and the Early Bird – a solo singer with a beautiful voice and thoughtful lyrics. Joe Doyle followed with great chat, a lovely selection of songs and an assured performance to the lunchtime audience.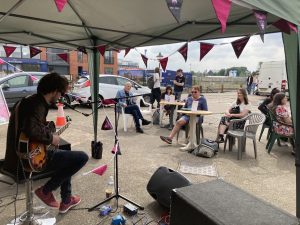 Leicester legend Kevin Hewick played effortless guitar and told interesting stories in between his heartfelt songs that span several decades now. The first band of the day – a stripped-down version of Dum Language – played next and their songs were powerful and effective, even without the drums and at a lower volume. The vocal harmonies echoed around the canal-side yard as more visitors turned up to enjoy the launch event and the warm weather (with no rain!) helped make it an excellent day.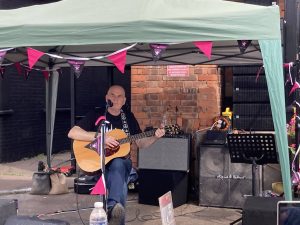 Stayfree Music's own Caroline was next on stage, performing her own original electro-dance compositions with the added cuteness factor of having her two little nieces dancing along. The increase in tempo and dance vibe was sustained with the next performer Emma Friedman who built up the excitement and anticipation for the last act – Leicester's own Dhol drum team Drum Kings. They always look so cool when they perform at events and the rhythmic drumming got everyone out of the Warehouse and watching their set and then an encore in the carpark. Drum Kings regularly perform at weddings and other occasions and their sound is massive!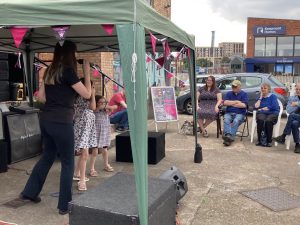 It was generally agreed to be a brilliant launch day for Warehouse Six as well as showcasing some of Stayfree Music's bands and the new drink selection. We often take part in events like this and are always looking for bands and solo artists who can perform for the public. If you're interested in being considered in the future, and you rehearse at Stayfree, drop a note or email to caroline@stayfree.co.uk and we'll let you know.