Having had a great success with the monthly Stayfree Showcases we decided to end the year with a Christmas Party at Firebug on 16th December. Performances at this event would be by the staff, headlined by the much anticipated return of The Hunters Club.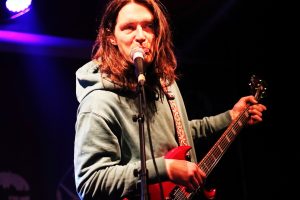 Max Mead started the event with his one man band. His performance involves layering live samples together to create songs. Its a fascinating thing to watch as he builds the songs onstage.
Unfortunately there were a couple last minutes sicknesses so Jas Heather and The Verinos were unable to play, so next on was me; Caroline McLavy.
My segment was electronic pop and I got to play some of my new tracks. Some of the customers were very eager to hear what the 'girl at Stayfree' gets up to
Following the two solo performances of the night, Dum Language took to the stage. They have been working hard gigging all year and it certainly showed, the audience loved them.
The event w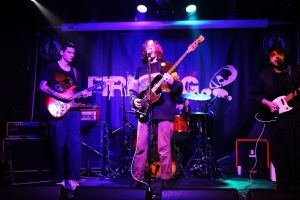 as packed out full of friends, staff old and new,  fans and lots of customers. It was a really great vibe. The highlight of the night was the appearance of The Hunters Club.
This was the first time they had played since the 2012 20th Anniversary gig at Lock 42. Sadly when Sly Dog died in 2014 it didn't look like they would perform again but our lovely Jake from The People Assembly stepped into The Big Dogs shoes and did him proud.
In addition, for what would appear to be one night only, The Beast also took to the stage. His tenure in the Hunters Club was with a later line up so it was the first time these songs had been performed with a live Bass.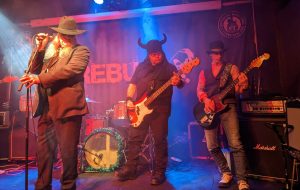 The nigh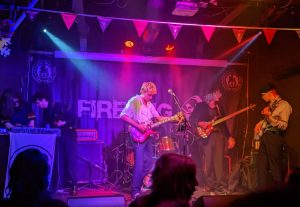 t was finished off with The People Assembly. As drummer Andrew was unable to play, Ethan stepped in. He had two weeks notice and one rehearsal before the gig but he played out of his skin!