First Wave punk band started in 2002, their current line up; Dean Ross, Graham Warne and Tony Taylor have been together for the past 7 years. They are an old school punk rock band with flavours of rock and pop, think Ramones meets The Clash with sometimes Killing Joke,  UK Subs and Motorhead Riffs involved.
The are playing Stayfree Showcase #2 on Friday 29th July at Firebug so we thought we would catch up with them and ask a few questions.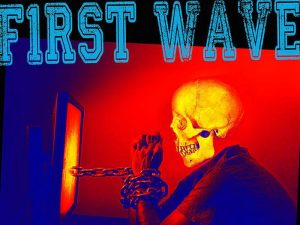 Are you promoting an album or single at the moment?
We are currently writing new songs and soon will be back in the studio following our last album; the critically acclaimed  BLUE SCREEN EXHILE
What has been your favourite live performance so far?
There have been so gigs! Playing The Ball Room at the Rebellion Festival or  Fibber McGees in Dublin is always a fabulous show, the Wild at Heart in Berlin was also a great one! The Magnificent Villa Mais in Paris was superb too
What else is coming up for you?
Well wave got a superb charity gig in Sunderland called Paws For Thought , a great show in Nottingham and of course the STAYFREE SHOWCASE #2 at the Firebug Leicester
Do you have any stories about rehearsing at Stayfree?
Ha! There's always some kind of drama or other , we've been here for years and even played shows at Lock 42 with such bands asthe mighty UK Subs and The Lurkers etc. We also filmed a short documentary in The Black Room during lockdown restrictions as a promo to some songs on the last album.
What's your favourite rehearsal room?
The Purple Room always has a great sound
Website – www.firstwavepunk.com
Social Media –@firstwavepunk
You Tube – https://www.youtube.com/channel/UCC2o2qykxpQ28fE3ZjPiF1w/
Bandcamp – firstwave1.bandcamp.com