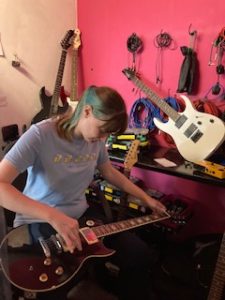 Guitar players never seem too keen to lend their guitars out. Would you? Stayfree Music does! We know that some people have 20 or more guitars in their loft, spare room and hanging on walls all through the house, but if you dare touch one without asking, you're for it!
We understand that expensive set-ups and delicate tremolo arms can make you protective, but here at Stayfree, we're all about letting you use our instruments. In fact we have eight guitars and four basses suitable for beginners that you can hire for £2 a session, and we also have guitar leads, straps and tuners that you can borrow. It's great if you're a beginner, or visiting from out of town … and also on those occasions when you turn up to practice having forgotten your guitar, which does happen!
We also hire out guitars and other equipment for longer periods – £10 for 24 hours – and there's a range of combo amps that go with them. Our mini-shop has all the strings, picks, batteries and other spares you could want.
The other great thing about letting people use our guitars is that it encourages community projects to try music. Whether it's children and young people, local women beginners or adults with a learning disability, Stayfree Music is providing the instruments and rehearsal space.
We also accept kind donations of instruments, if you have any lying around!
Please comment below; would you lend out YOUR guitar?