Over the last year, the face of local music has changed considerably with the formation of 12 all-women beginner garage bands performing their own original songs - and many of the musicians are over 40, 50, 60 years old.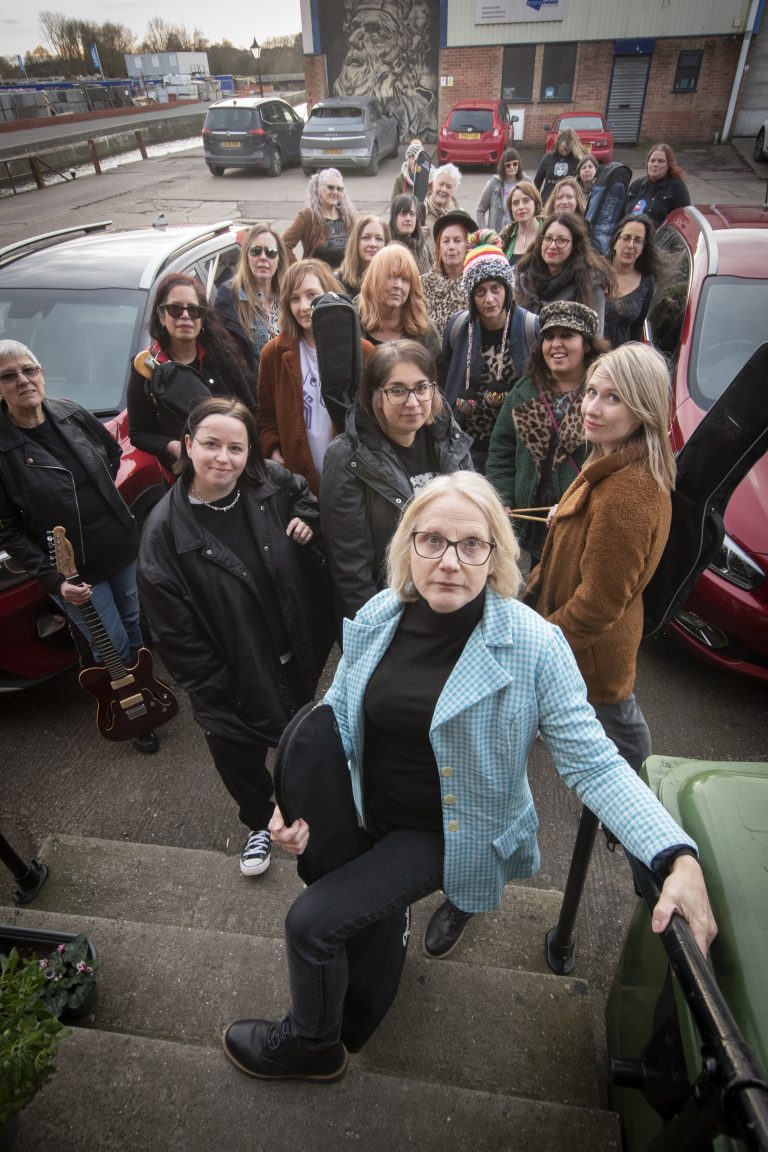 The founder of Unglamorous, Ruth  Miller fancied forming an all-women band as Leicester came out of Covid lockdown, but there didn't seem to be any takers: "Women musicians were either doing their own solo thing, or had given up to concentrate on other things. I appealed for a Leicester-based woman drummer on Facebook but none of the few suggested women were available"
It was then that Ruth saw a possible solution. If she wrote really simple songs and taught some non-musician women to play, it might be a lot of fun, just like the punk days in the late 1970s, when everyone was getting on stage and having a go.
Gathering together potential members to form The Verinos was a bit like the start of the Blues Brothers film. Ruth's old band mate from 1990s psychedelic pop group 'Ruth's Refrigerator' agreed to join, a friend who loved gardening volunteered as a drummer even with no previous experience. A singer was plucked from a ladies choir and the bass player was spotted at a party in Kayal restaurant already looking like a punk star even though she'd never played.
The Verinos planned their debut gig at the International Arts Centre in October 2021 and already attracted  a lot of publicity. BBC East Midlands Today came and filmed, and the result became the 'video of the day' nationally. It seemed like lots of people were keen to find out about this beginner band of women who were older than the usual punk band.
What happened then was that women in the audience also wanted to have a go, and that was where the idea for Unglamorous Music workshops for women beginners originated. By January 2022, based on a little coaching and encouragement from Ruth, more new bands were forming.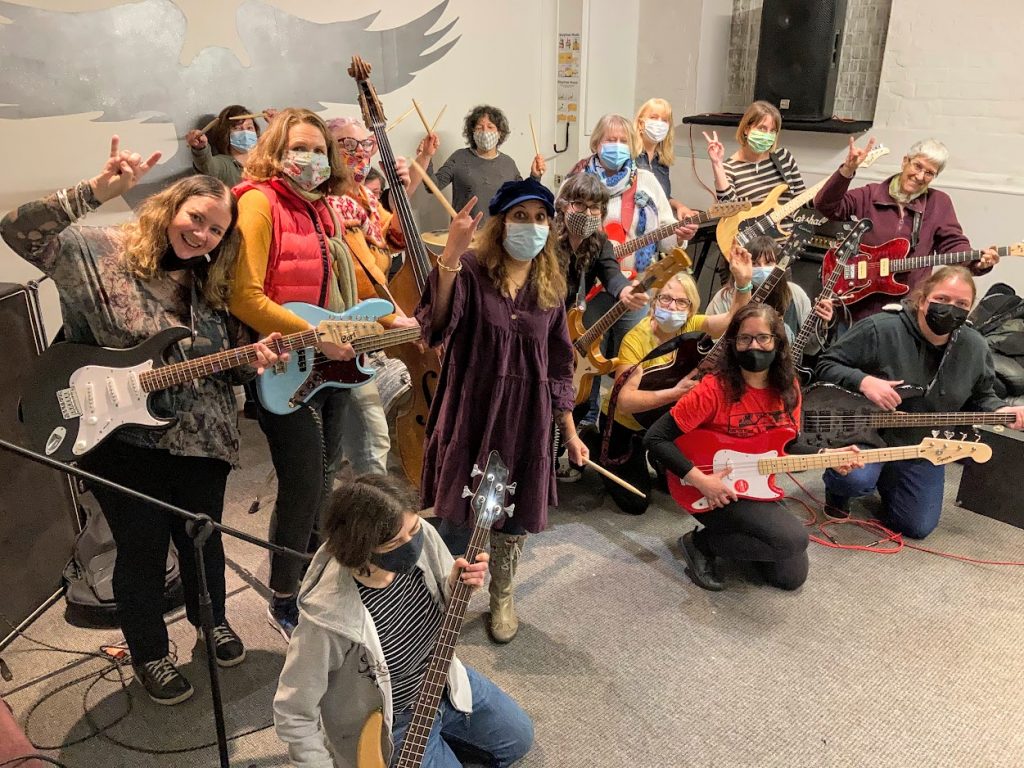 The First Workshops - January 2022
"The reason it worked so well is that Stayfree is a very welcoming place and there were plenty of instruments to hire so that the women taking part didn't need anything at all to get started – it was all provided for them. There definitely has been a change in the number of women rehearsing at Stayfree, from five all-women bands in March 2022 to twelve this year – that's over 40 new customers. Unglamorous has also raised over £1000 for local women's charity New Dawn New Day by doing fundraising gigs. People are often curious about how we manage to get bands playing together so quickly. The main reason is the emphasis is on listening to others and playing really simple notes, chords and rhythms, ensuring the band is together. Over time, the songs can become more complex, but getting beginners playing in a group right from the start really helps with achieving a tight band sound. 
International Women's Day 2022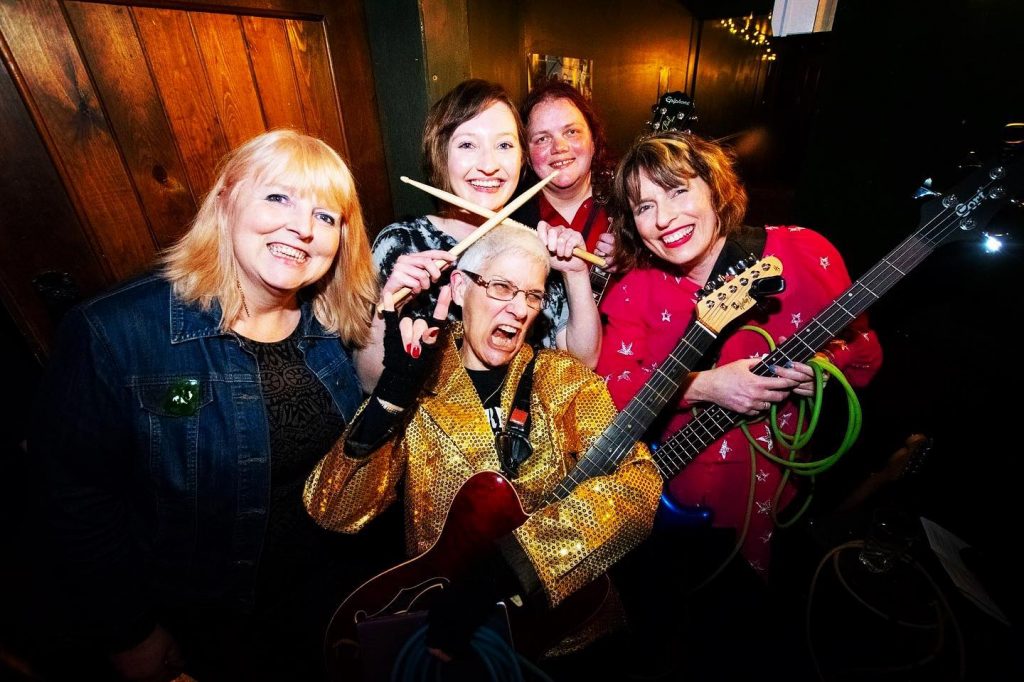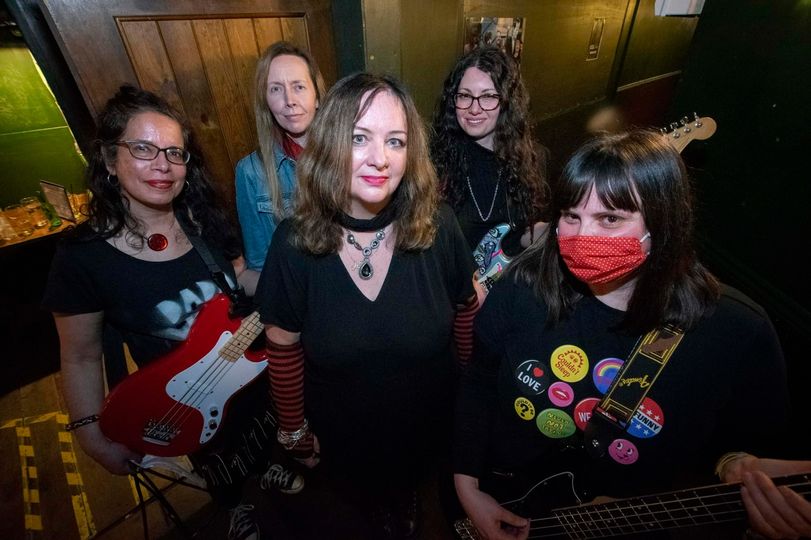 More bands formed Autumn 2022
Following the great success of International Women's Day 2022, where there were performances by Dada Women, The Wonky Portraits, Chrissie and the Start-Ups, Velvet Crisis and The Verinos, more women bands formed, including Glitch Magnet and Virginia's Wolves (formed from the two halves of Chrissie and the Start-Ups) and Venus Attax. The drummer in Venus Attax, Carole, had always wanted to play drums in a band and promised herself she'd try when she got to the age of 70. With the help of Unglamorous Music, Carole managed to play her first gig at the age of 69! But we're not all older women; our youngest musician is Lucy, the 24-year old drummer with Virginia's Wolves.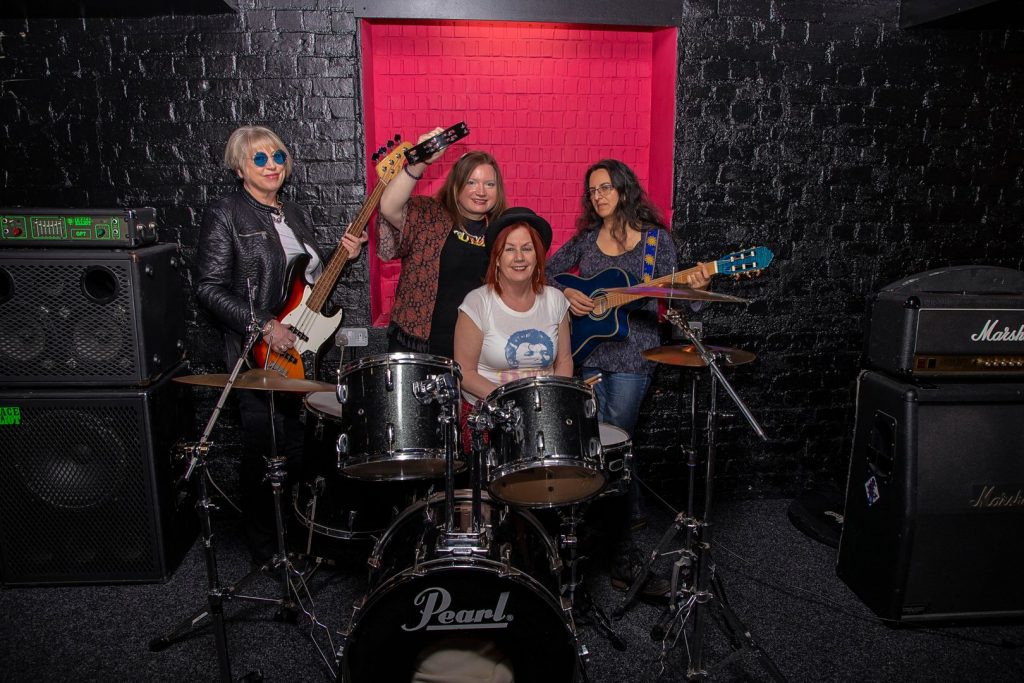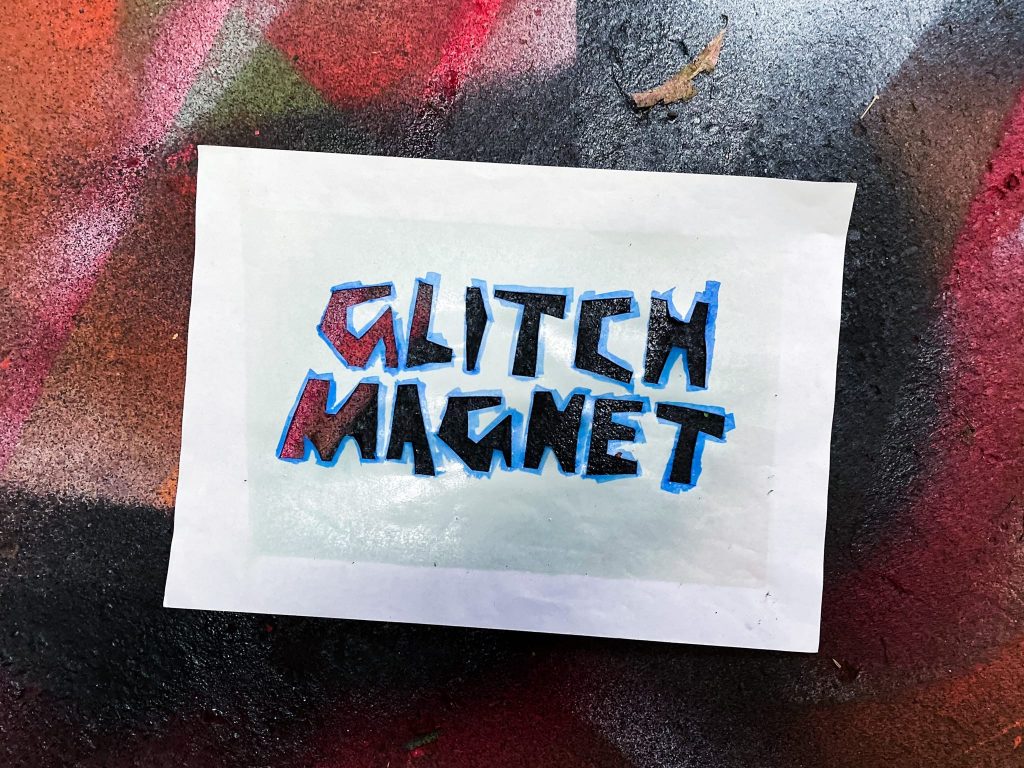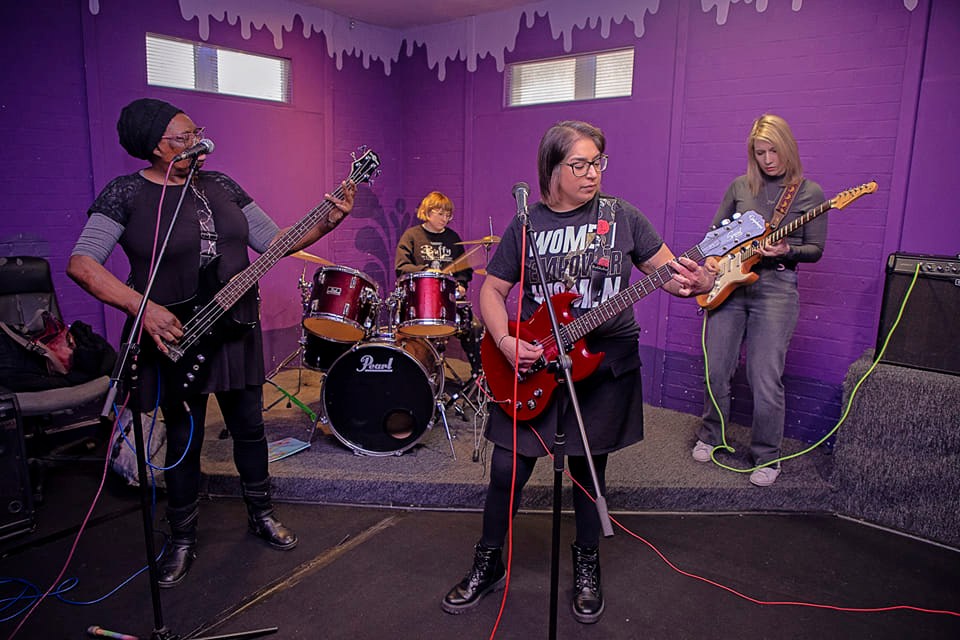 Recording the unglamorous album
In October/November 2022 the Unglamorous Sampler Album was recorded at a pop-up Seamus Wong studio at Leicester's International Arts Centre. For most of the women involved it was the first time they'd done anything like this and they soon learned that recording is quite different from playing a live gig! Over three days, the bands came in and performed several takes of each song, with vocal and guitar overdubs. Twelve songs were recorded by 8 bands in an exhausting schedule where amazingly, everyone kept focussed and positive!  
Ruth Miller explained that she wanted to make the album because she was so impressed with the standard of song writing that had come from the first generation of Unglamorous bands.
"I don't want this scene to get lost to history. Although these women are beginner musicians, they have created some truly great original music and I wanted to make vinyl so that music fans can appreciate it."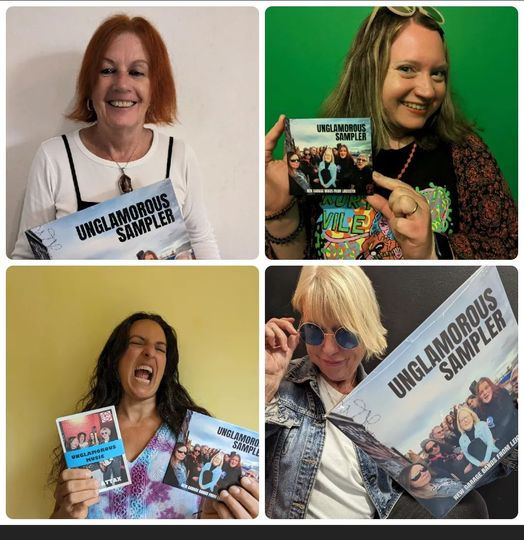 This 12 track album is available on gatefold vinyl, CD, Bandcamp download and streaming on 7th July 2023. The album was mastered by the award-winning Katie Tavini at Weird Jungle, production and artwork by Karen Emmanuel's Key Production. The album launch party was held at International Arts Centre
The whole project started again in January 2023 and was bigger than ever with 20 new women and 5 new bands to add to the movement. This year there was a lot of media interest and the women were not only learning to play their instruments and write songs, but were regularly asked for photoshoots and interviews from the like of Channel 5 News, Leicester Mercury, BBC Radio Leicester, The Guardian and also reaching as far as German and New Zealand Press! The new bands played their debut gig to 300 people at Firebug Bar at International Women's Day and most have now gone on to play more gigs at venues across the city.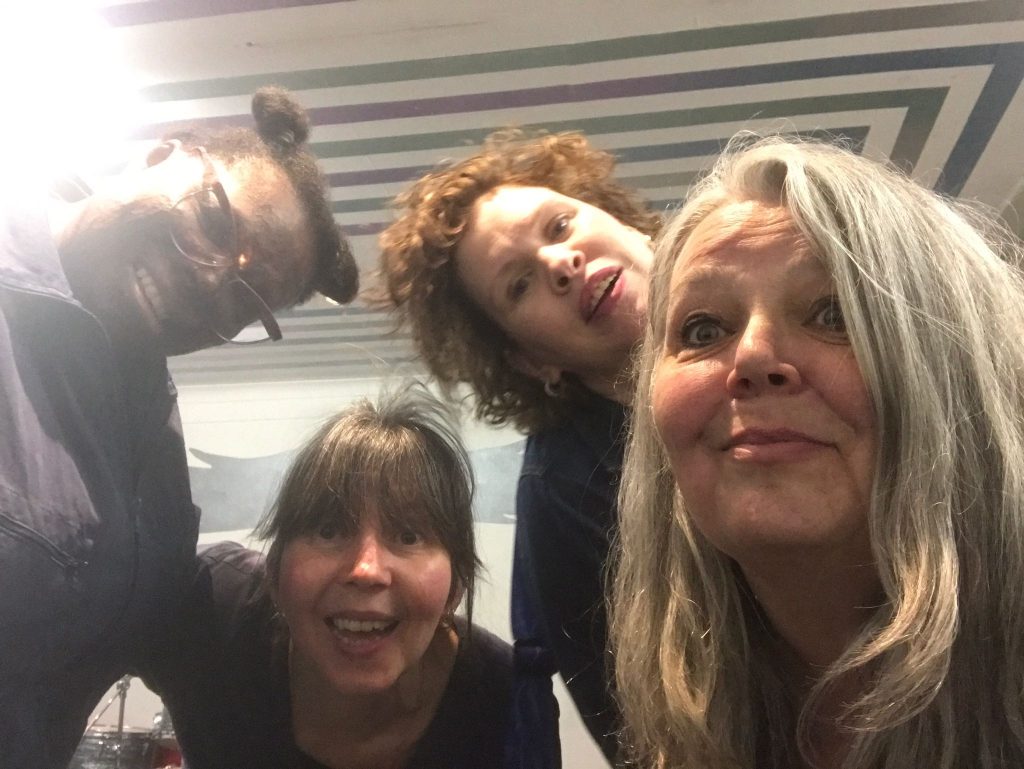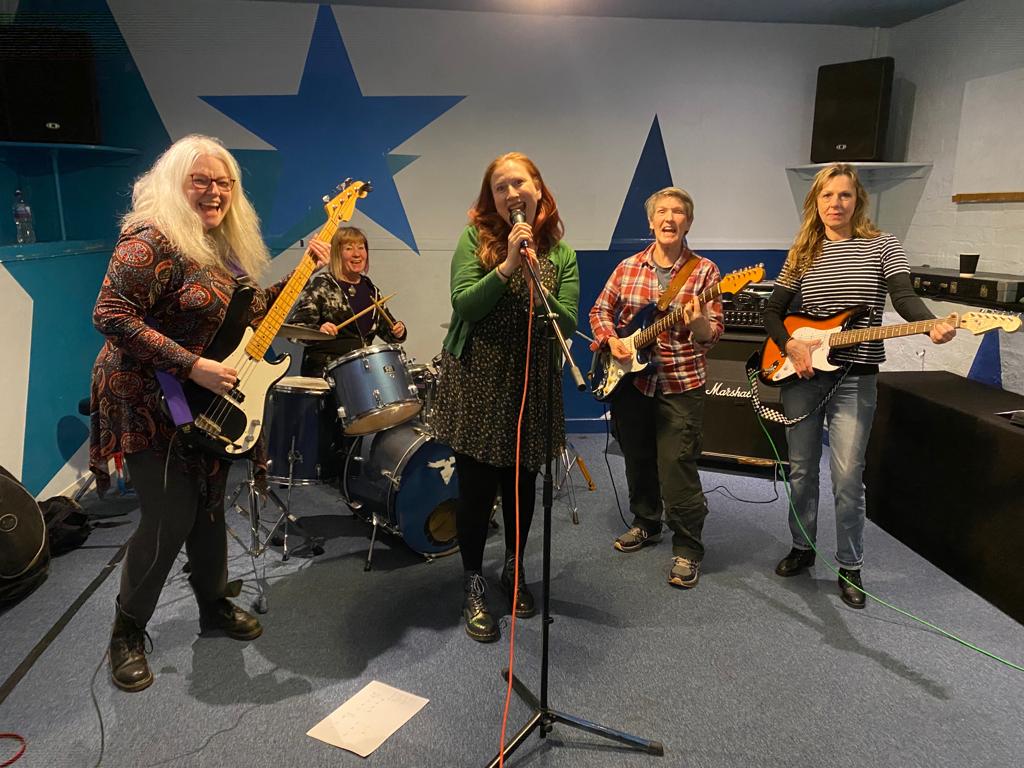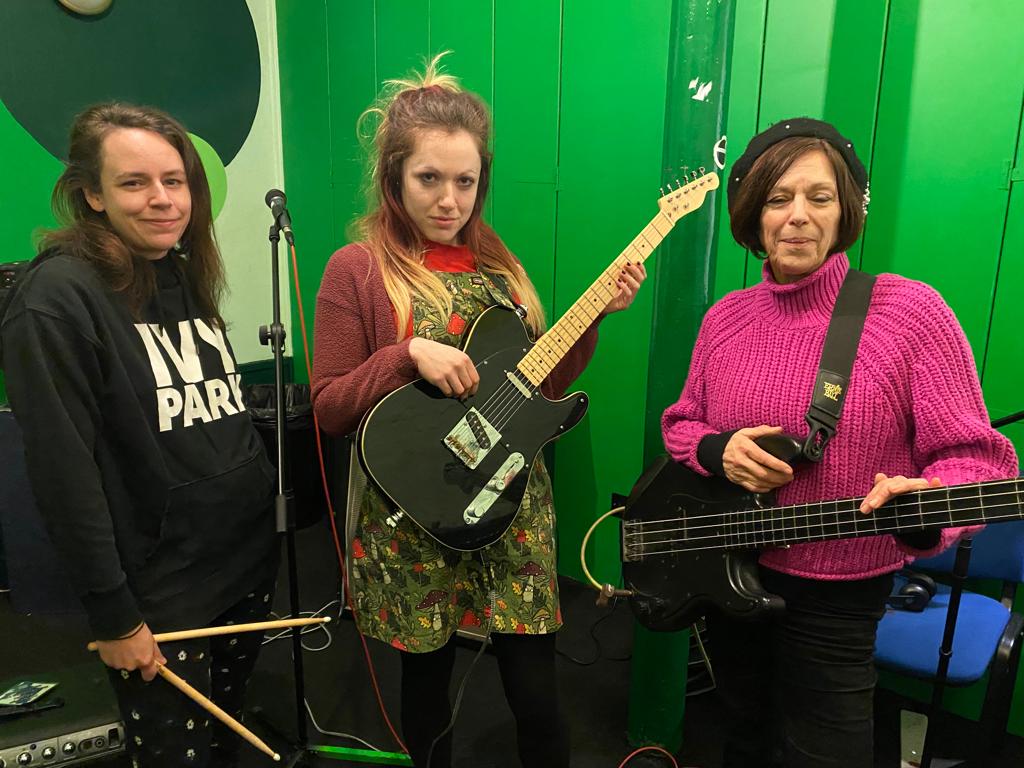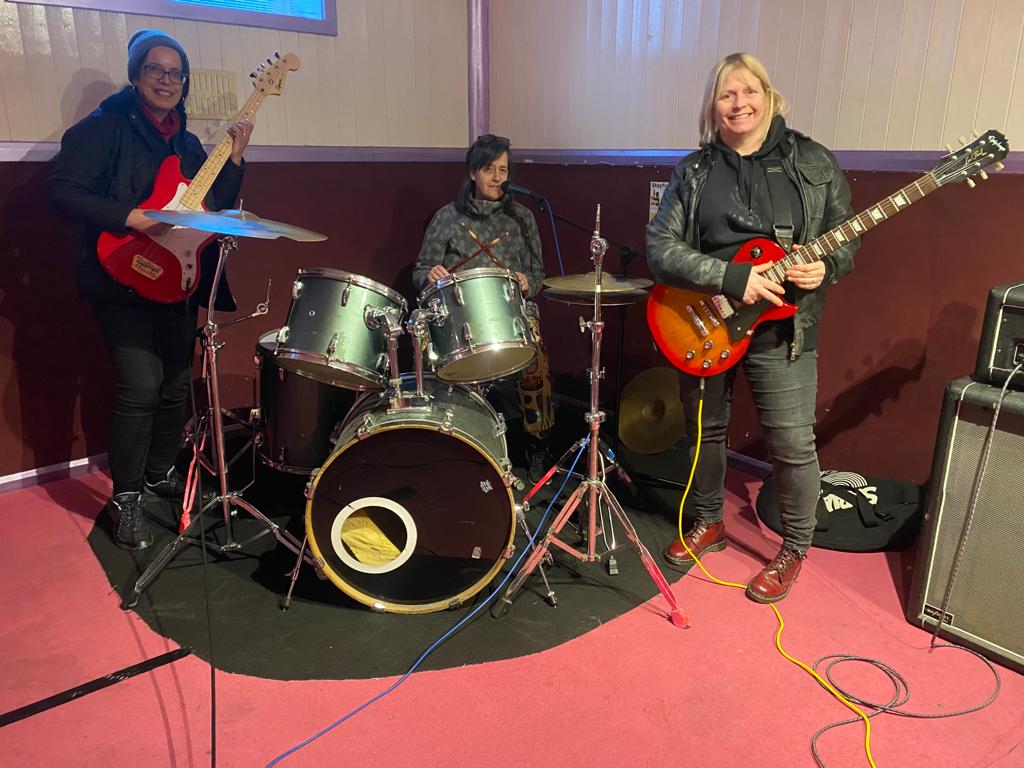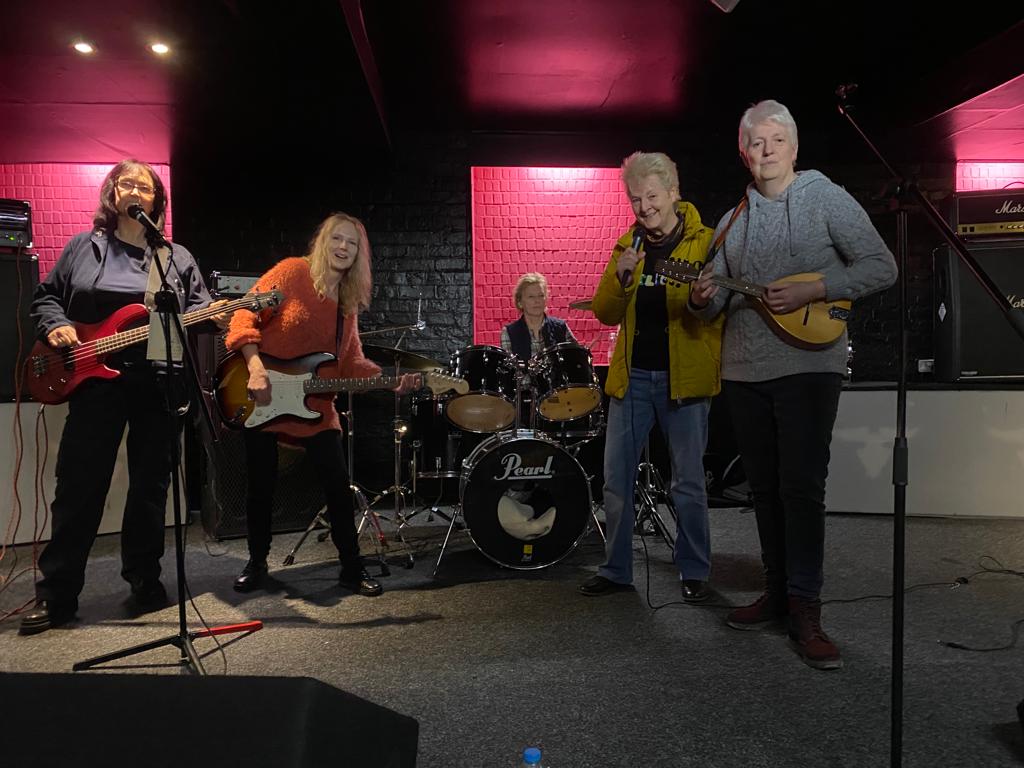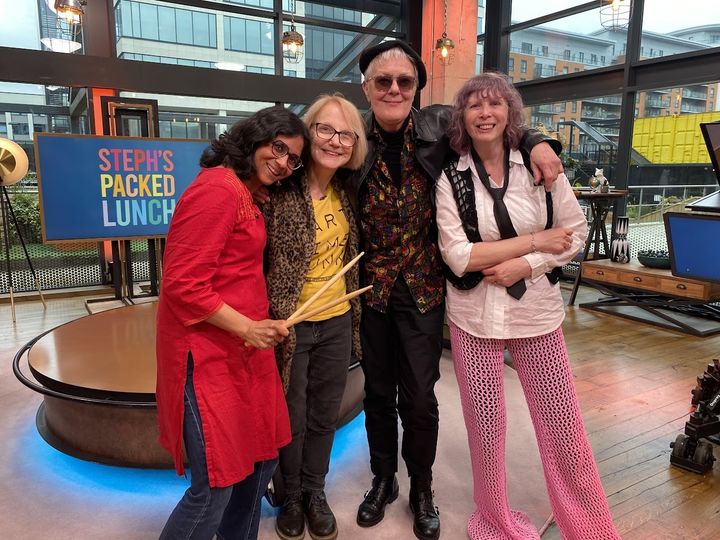 Channel 4 - Steph's Packed Lunch
International Woman's Day 2023
Occasionally people ask Ruth 'What about the men?' suggesting that there should be similar provision for would-be male musicians. Her response:

"I think everyone should have a chance to make music collectively in bands, whatever their age or level of experience – it's so much more rewarding making music in a group than just playing on your own at home. I chose to teach women because I think all-women bands are really cool, different and there aren't enough of them. But what the Unglamorous  project has proved is that Stayfree's friendliness, range of rooms and instrument hire would enable any group to come in and have a go, for one musician to bring in some inexperienced friends and show them the ropes. Like us, you could do 10 rehearsals and then do a gig at Duffy's Bar. It is honestly so much fun!'
EVEN MORE NEW WOMEN'S BANS EMERGE IN JUNE 2023
Due to popular demand, a second workshop ran from April – June creating more wonderful women bands.  They played at Duffy's Bar on 22nd June  along with a few of the already established bands on the Unglamorous scene!